What is a POS system?
What exactly is a POS and what makes it an important fiscal tool? Let's learn about different types of POS systems and which would suit you best.
POS systems historically known as the cash register, was invented in Ohio by a saloon owner named James Ritty to prevent theft by employees. Today, this safeguard is considered as a basic POS function. Point of sale systems have evolved into something much more.
why pos systems are here to stay.
POS systems have become a necessity for fiscal reasons in many countries. Storing the names of items, pricing, costs, tax, and customer data. Causing vast improvements in the speed and operation of nearly all business industries.
CLOUD VS LEGACY POINT OF SALE SYSTEMS
Cloud technology has opened the possibility to deploy software as a service. Popular among "iPad" or tablet cash registers. Clearing the path for easy tech support, secure data storage, and instant updates. Business owners enjoy the added benefit of accessing their data and making changes remotely. The ability to make price changes, schedules, and run promotions from anywhere in the world can provide a business owner the edge they need. Simplifying the process to manage and operate multiple locations can be crucial for growth.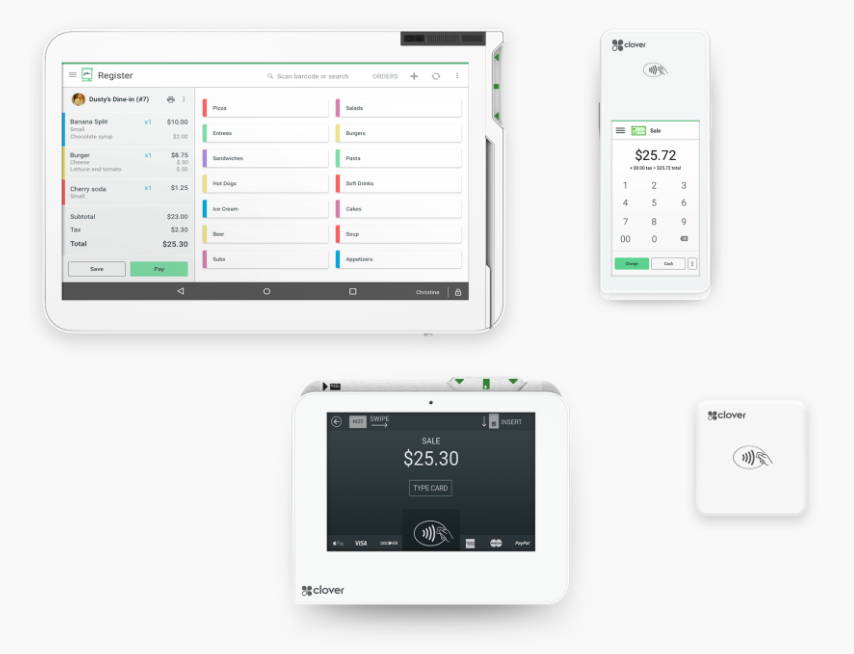 WHAT IS THE MAIN DIFFERENCE?
Data is stored in the Cloud
From installed computer only
Any device on the internet
Hard to access data, upfront cost
Relies heavily on internet service, lacks hardware support
Deciding between a legacy and cloud POS system should be your first step in the decision making process. It goes without saying that cloud based POS systems have gained substantial ground in recent years due to the low cost of entry and high set of features. But legacy POS systems still have a place in today's world due to its low reliance on internet service.
So which is right for you?
It all breaks down to accessibility, analytics, integration, functionality and costs.
If you own and operate a restaurant/fast food business, cloud based POS systems should be your go to. Due to their low cost of entry, low down times, and anywhere cloud access it makes them a perfect fit. User friendly interfaces from companies like Clover make ringing up food orders fast and easy. Quickly add modifiers or simply create one on the fly, the options are virtually endless.
On the other hand, businesses like supermarkets, convenience stores, and large clothing stores may prefer legacy POS systems over cloud based. Legacy POS systems still maintain high hardware compatibility over cloud based POS systems. The ability to connect to a variety of weight scales, display screens, barcode scanners, and input devices can prove to be crucial for certain business types. Since most legacy POS systems are Windows based, hardware support is not in short supply. Virtually all POS hardware is supported by Windows.
Ready to build your new clover system?
Call (877) 579 1113 or Email us at info@iMerchantech.com