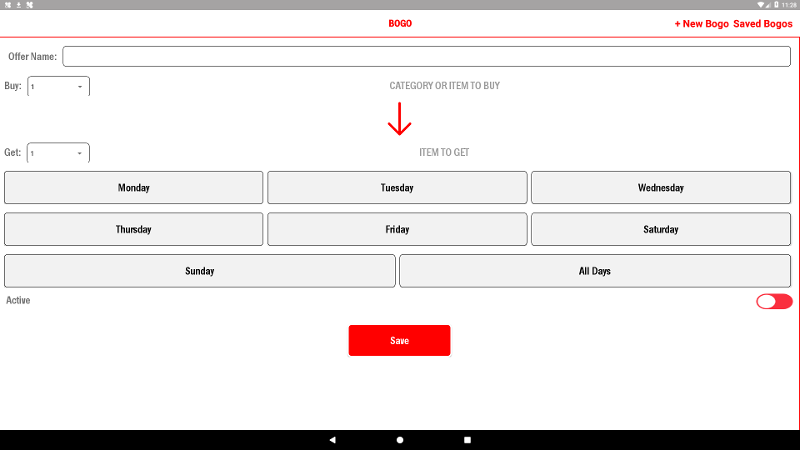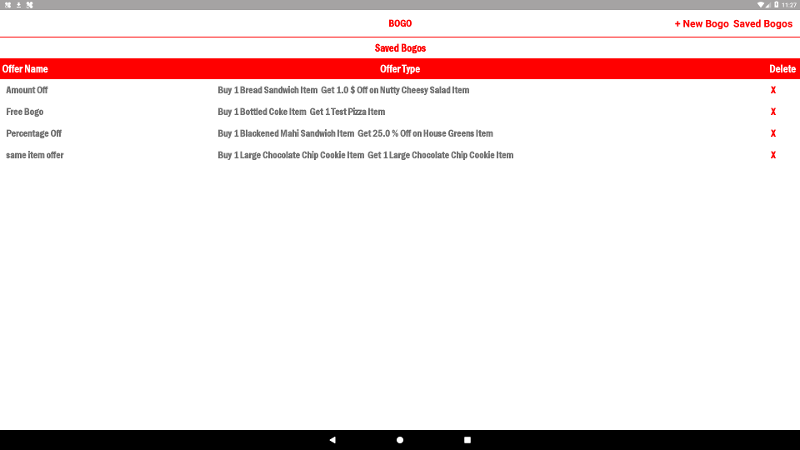 Create BOGO offers that automatically trigger when adding a designated item in the Register app.
Set the days of the week a BOGO offer is available.
Use across your user-facing Website, Custom App, Facebook ordering page and in the Register app
Designate the "Get" item(s) as free, percentage off, or dollar amount off.
Add modifiers to the "Get" item(s)
Utilize "Buy one Get one" promotions to increase your revenue. Allow your users to take advantage of BOGO offers accross your OrderEm powered Website, Facebook Ordering

Page and Custom App. You can set parameters such as:
- # of items required to buy
- # of items to be received
- % off item(s) to be received
- $ amount of item(s)to be received
- Set day(s) of the week that Bogos will be active
Designed for use with OrderEm - Online Ordering for Custom App, Social Media, And Web as well as the Clover Register App.
There are many different channels available for you to advertise your BOGO promotion on.
If you own a brick and mortar or pop-up shop, you can go old school and advertise your BOGO promotion offline at your store. Besides covering your store with flyers, you can use your store layout to advertise your BOGO promotion by product displays, lighting, and even music to present the best experience to your customers. Visual merchandising is a great tool to grab shoppers' attention and advertise BOGO promotions.
Online Ordering - By investing in online advertising, you can reach out to your target audience with the websites they visit most.
Opportunities in online are abundant and BOGO deals allow you to promote across social channels, websites and more once you are able to create online BOGO Orders.
Mobile is a huge part of the online retail industry. Advertise on mobile channels by leveraging social media and email marketing to reach out to shoppers on the go.
Visit https://www.OrderEm.com for more information
Station Pro, Station (2018), Mini, Mobile, and Station

Pricing & Subscription Information
-Non Customers
-

$9.99
per month
If you don't want to enable online ordering - you pay monthly flat fees to use this for in-store orders
Support & Additional Information
Ready to build your new clover system?
Call (877) 579 1113 or Email us at info@iMerchantech.com