Stay in sync with your business by accessing clear reports.
Run POS reports to identify your hottest items and busiest times.
Track your business at any given moment using the Mobile Dashboard app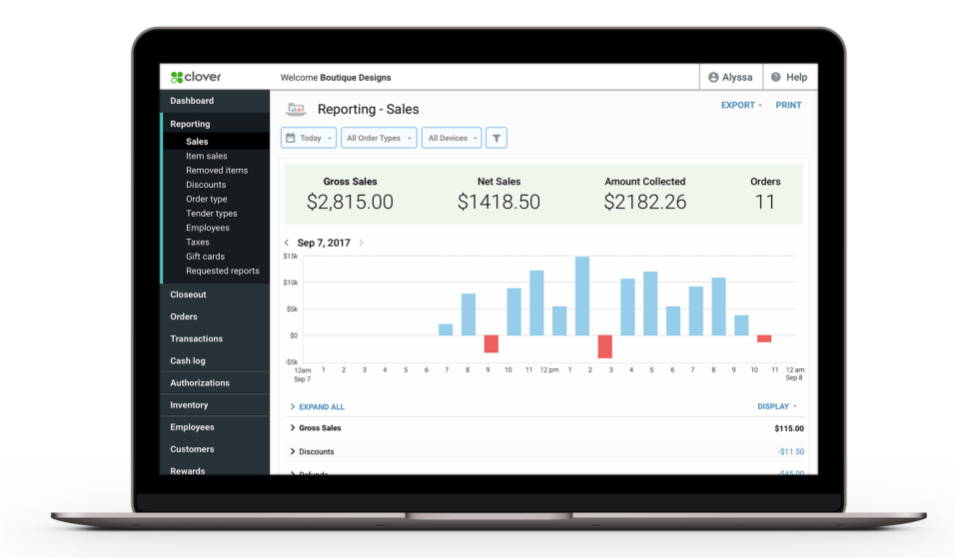 Gain real-time insights into trends driving your business

Track key metrics like sales and revenue.

Stay in complete sync with your business real-time from

anywhere using dashboard.
The Mobile Dashboard app will keep you in sync with your business at all times.
Track revenue by the hour, top selling items, refunds, discounts, open orders and much more.
Get sales data from all of your locations using a single login.
Track sales data as it populates wherever you are. Just open the dashboard on your mobile phone or computer.
View a quick glance of your day as soon as you close out.
Track total sales per server and distribute tips easily.
Check your credit card sales by card type.
Want more? LEARN ABOUT ONLINE ORDERING.
See how online ordering can streamline your business.
OUR BEST SELLING POS SYSTEMS
Need help building your POS bundle? Call us at 877-579-1113
Ready to build your new clover system?
Call (877) 579 1113 or Email us at info@iMerchantech.com