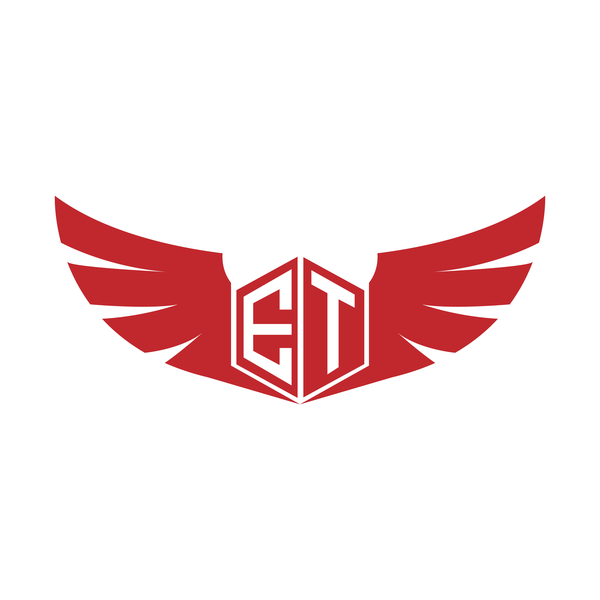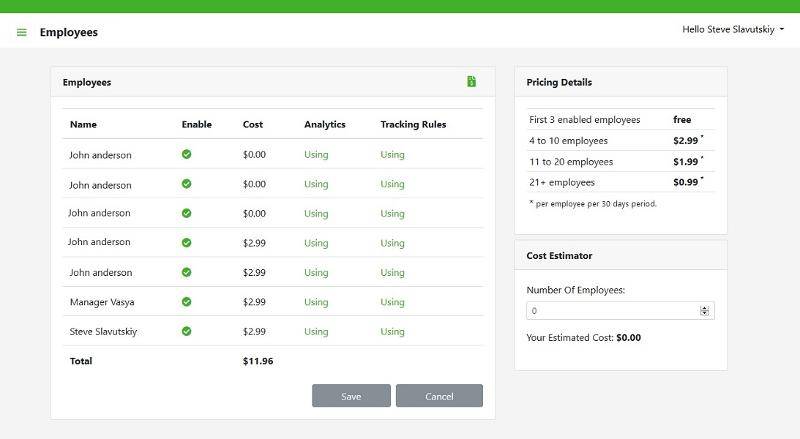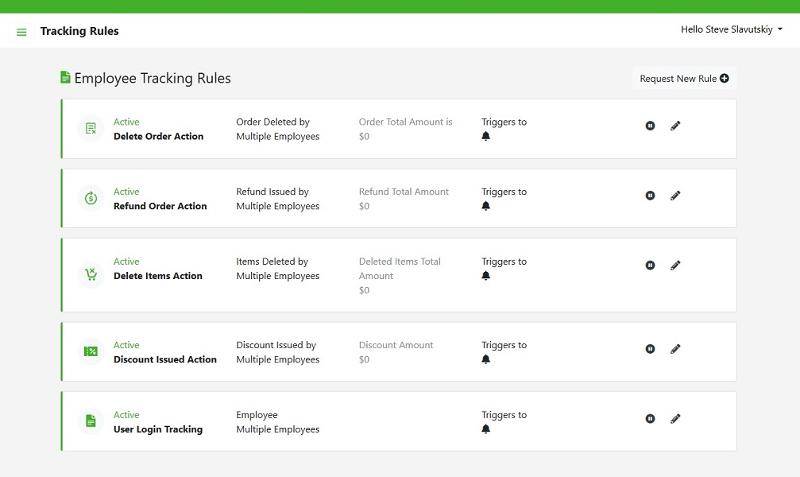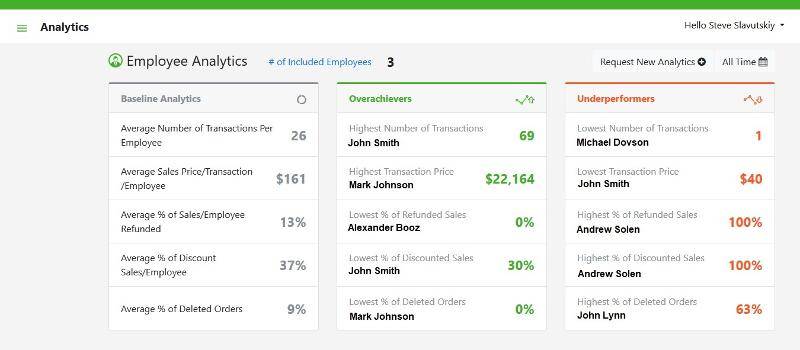 Prevent loss at cash register
Manage employees on cash register
POS surveillance
1st ever employee theft finder for Clover is designed to help merchants curb or prevent loss due to either negligence, ignorance, or theft committed by employees working the cash register. For the owner of the establishment, the loss is equal in both cases its measured in real loss of Cash.
App is free to install & cost of service is:
$0.99 / Employee / Month. (Merchants can decide how many to activate)
Helps owners find, minimize, & help deal with loss in Cash Register. Specifically, this product has the following benefits:
Analytics – Helps the owner see the data in a way that leads to ask the right questions in order to prevent loss of funds from the cash register. User does not have to set anything up.

All the analytical data will be computed by analyzing previous transactions. The focus of analytics is on employees & their actions.
Rules – Helps the owner to start monitoring up to 4 different high risk scenarios. In each rule, the owner can setup email alerts with various frequency.
--------------------------------
Delete open order action – Clover does not naturally track when an open order is deleted so logs won't show it & it is a great source of fraudulent activity already.
Delete items action – Clover does not track deletion of items from unpaid orders so the total can easily be manipulated by an employee.
Refund order action – This issue may not even be intentional. For example, employees may just feel like they are being nice to everyone involved and agree to accept all returns.
Discount issued action – This issue may not even be intentional. For example, employee can provide all their friends and family discounts in the store, not realizing that this is also hurting the owner. So, finding excessive use of discount is a good way to prevent loss for the owner.
User Login Tracking - This rule will help the owner keep track of who's logging in and out of Clover and what time. Helping owners see if anyone is using admin privileges.
Flex (2nd Generation), Station Pro, Station (2018), Flex, Mini, Mobile, Station, and Web

Pricing & Subscription Information
-Pay-per-action pricing:
This app will bill you when the following actions occur:
$0.99

per

21+ / Employee / Month

$1.99

per

11th - 20th / Employee / Month

$2.99

per

4th - 10th / Employee / Month
Support & Additional Information
Ready to build your new clover system?
Call (877) 579 1113 or Email us at info@iMerchantech.com