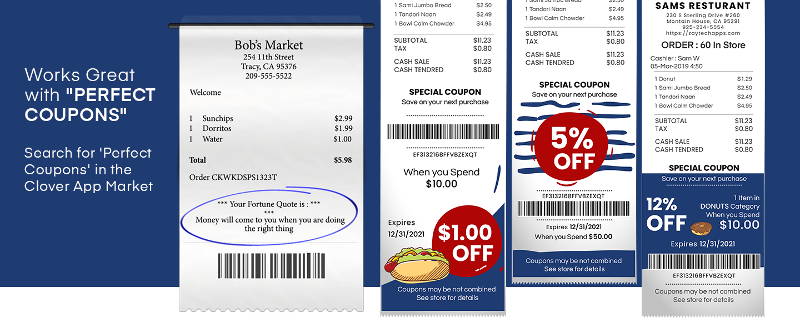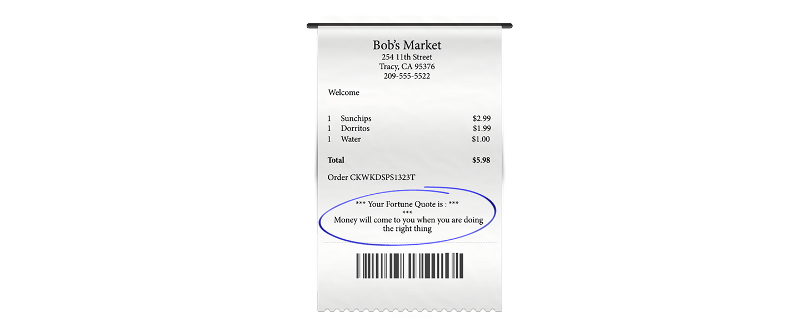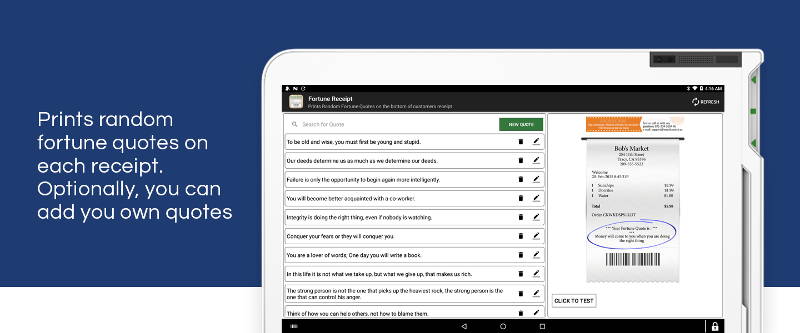 Prints fortune quotes on customer receipts
Creates a Memorable Experience for customers
Helps increase customer retention
Works great with the Perfect Coupons App found in the App Market
Hundreds of Quotes
This app will print random fortune quotes on the bottom of your customers receipt, similar to a fortune cookie, minus the cookie. This app is great for any business owner who wants to increase customer retention by providing a customized receipt.
Watch your Social Media reviews grow and attract new customers as you provide a positive and memorable customer service experience. Get the app today and enjoy the results. Fortune Receipts also works great with the Perfect Coupons app. Great for Printing Coupons while at the same time have Fortune Quotes Print on the customers Receipt.
Special Offer for Fortune Receipt Customers
Install our other app called "Smart Online Order" and mention Fortune Receipt either by phone or in the special instructions and receive an additional month of Online Ordering for free. We will set everything up for you. Take your business Online and have Orders print directly to your Clover or kitchen printer
Flex (2nd Generation), Station Pro, Station (2018), Flex, Mini, Mobile, and Station
Pricing & Subscription Information
Free - Keep your customers entertained with unique fortune quotes on their receipt. Fortune Quotes automatcially print on each customer reciept
Fully Customizable - Hundreds of Random Fortune Quotes + Edit, Remove and Add new Quotes. This subscription allows you to add your own Quotes and edit current quotes.
Support & Additional Information
Ready to build your new clover system?
Call (877) 579 1113 or Email us at info@iMerchantech.com