Reporting for Kitchen Display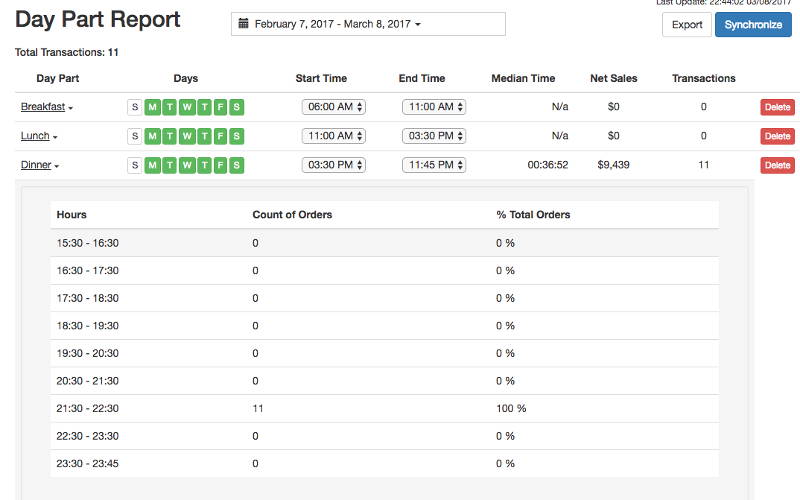 For merchants who use the Kitchen Display app to zip orders through their kitchen, this companion Reporting app give you the ability to keep tabs on how your kitchen is operating with answers to the following:
1. Monitor how long orders are taking to fill
2. Identify items that are taking the longest (and shortest) times to fulfill
3. Helps you manage staffing for different shifts or day parts
The Reporting for Kitchen Display app has the following report types.
Lists each order with the process time (how long it took to fulfill), start and finished times.
-> KEEP TABS on whether a station or time of day is slower than expected
List your items (aka dishes) with # of items processed, average and median process time and total time to fulfill.
-> KEEP TABS on your popular items and ones that are taking too long to fill
Shows how your orders are distributed throughout the day by "day parts" that you configure. Also shows median time, net sales and count of transactions.
-> KEEP TABS on your peak times.
https://4leaflabs.freshdesk.com/support/solutions/articles/12000026418
- Subscribe to the Kitchen Display App for Clover
- Desktop computer with Firefox, Chrome IE 10+ browser.
Pricing & Subscription Information
-Web Reporting
-

$9.99
per month
Access to Web Dashboard
Support & Additional Information
Ready to build your new clover system?
Call (877) 579 1113 or Email us at info@iMerchantech.com