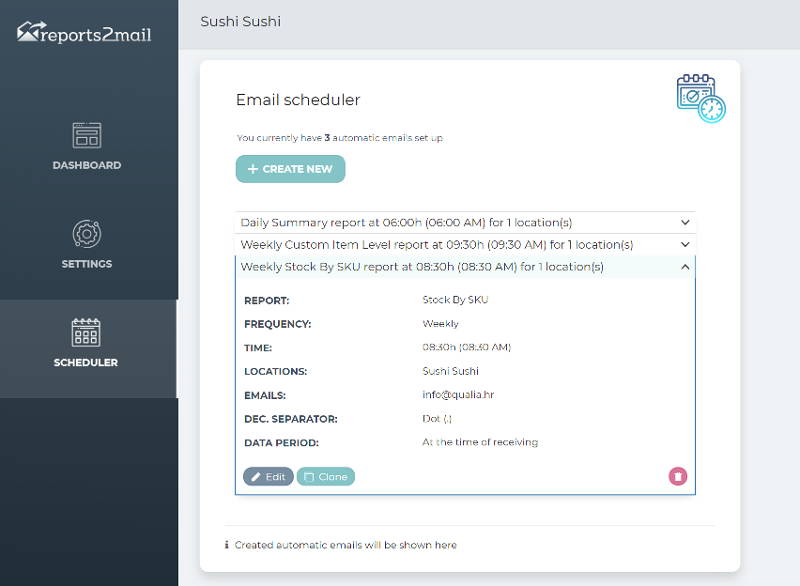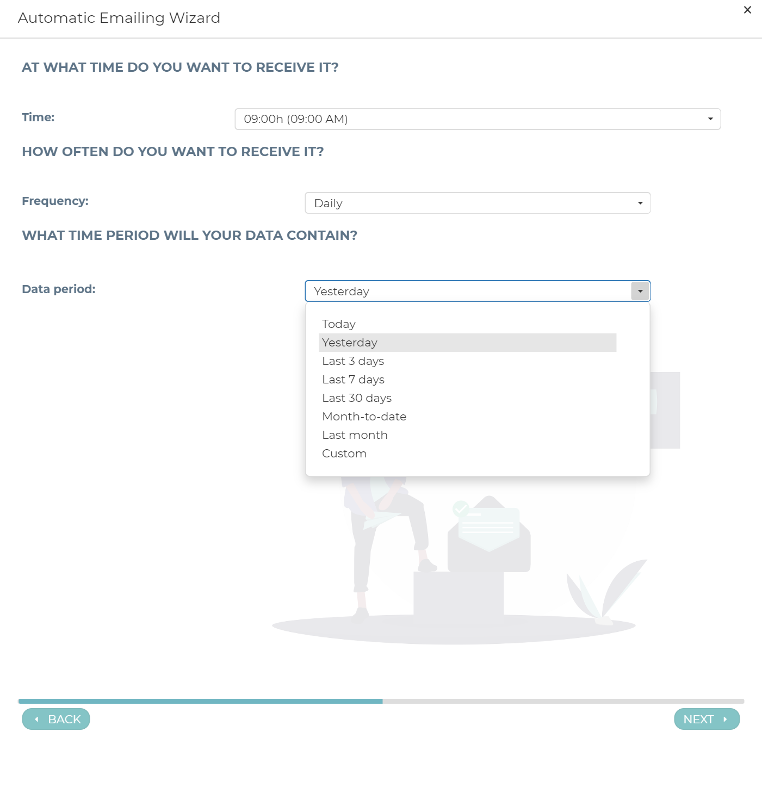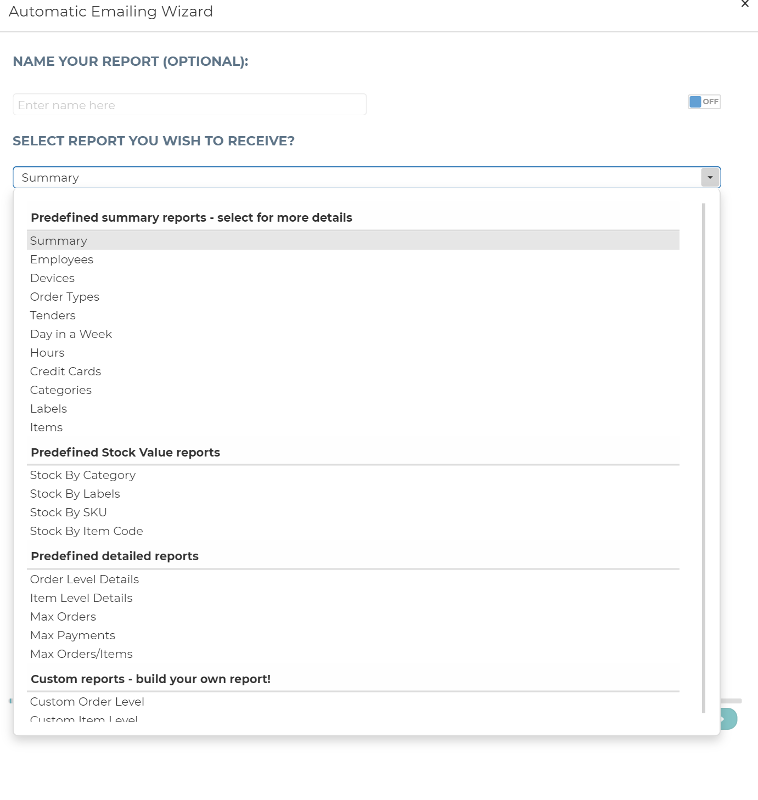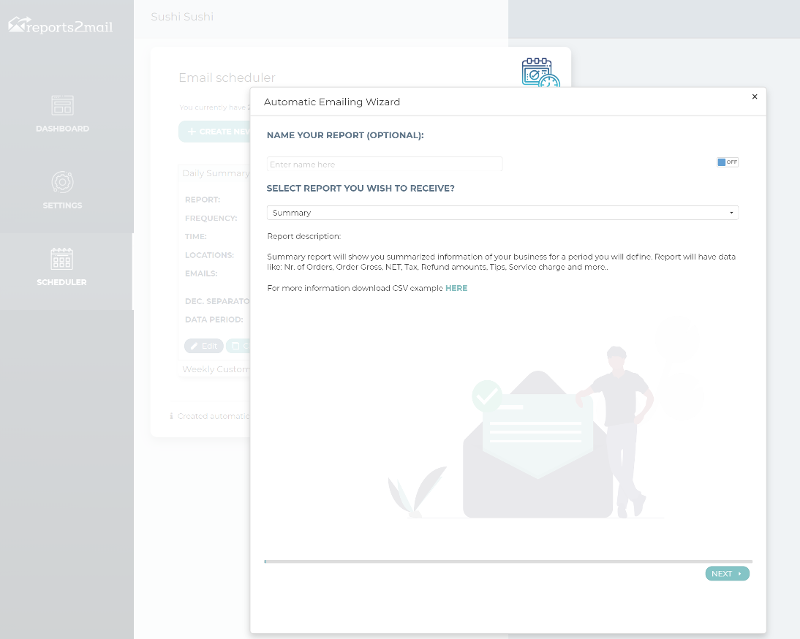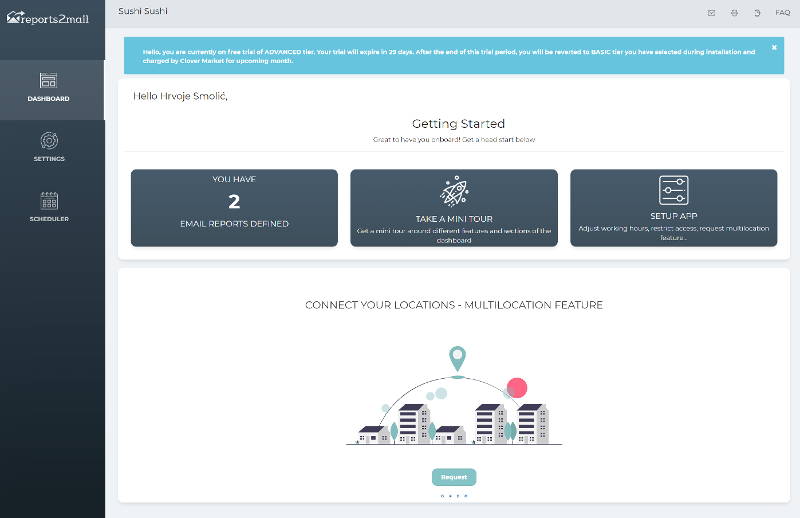 Easy, intuitive & time-saving app with many reports directly to your email(s)
Reports with the most detailed email reports in the marketplace
Simple and user-friendly set-up, a few clicks report definition
Powered by #BusinessQ, business intelligence and #dataviz software
Your Clover reports directly into your inbox.
Reports2Mail App is a unique app that helps merchants with daily, weekly or monthly information on sales, revenue, employees, tenders, and more.
Tailored for business owners, managers, accountants, controllers, suitable for any business type.
With Reports2Mail App you can simply select predefined or create custom reports that you wish to receive. You can choose between daily, weekly or monthly, at any day time for any period and receive any data you need.
Reports2Mail App will do it all for you - join the merchants using this app to grow their revenue using data-driven insights - Get started for free today, with 30 days free trial!
1. Summary reports – predefined overview summary reports with information about revenue, devices, employees, hours, tenders, items, categories or stock value.
2. Detailed reports – in detailed reports section you can create and receive payment comparison and order comparison report, different stock value reports as well detailed reports with many information on orders and items like device name, order no., order type, order date, day, hour, time, employee, payment type, payment date, payment time, card type, order amount, order gross, NET and many more…
3. Custom reports – make your reports with data about orders or items; just choose from available data for measure and dimension fields and make your report as you need it!
*RECEIVE REPORTS IN MORE FORMATS
CSV (Comma Separated Value)
Choose between daily, weekly or monthly receiving of the reports, at any time of the day.
Choose from options like today, yesterday, last 3 days, last 7 days, last 30 days, month-to-date, last month or create your data period
- If you have more locations, you can see them all integrated into each report you wish to get. Just contact us if you wish to join more locations.
Pricing & Subscription Information
First 30 days you will enjoy FREE to try, full ADVANCED tier features. After that, you switch to completely free STARTER tier: 2 free business reports (Summary Revenue and Order Types). Unlimited number of recipients.
First 30 days you will enjoy FREE to try, full ADVANCED tier features. After that, you switch to BASIC tier with possibility to choose from 15 summary type reports. Unlimited number of recipients.
-ADVANCED
-

$5.99
per month
All in BASIC plus 5 additional detailed reports plus ability to create your own CUSTOM REPORTS and our premium support. Unlimited number of recipients.
Support & Additional Information
Ready to build your new clover system?
Call (877) 579 1113 or Email us at info@iMerchantech.com