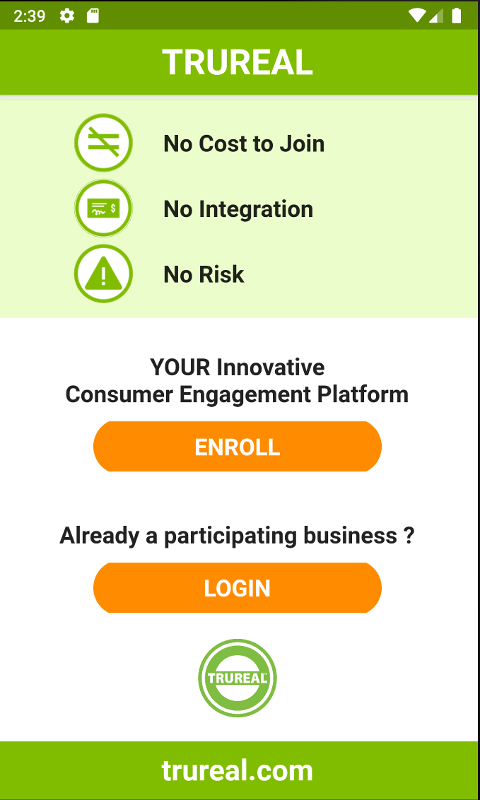 Link to the Trureal Merchant Enrollment Portal.
Link to the Merchants personalized Trureal dashboard and account.
A list of benefits to participating merchants including no cost to join, no integration and no risk.
Trureal is a consumer engagement platform enabling merchants, charities and consumers to transact and transform everyday purchasing power into sustainable charitable giving. The Trureal program has attracted some of North America's largest charitable organizations with donor/consumer reach in the millions.
Trureal was designed specifically for this captive audience whose sole purpose for patronizing participating merchants is to lend sustainable support for their charity. The charitable organizations are the beneficiaries of this merchant-funded program, hence the driver of consumer spending at participating merchants is done by the charities.
The Trureal app serves as a launcher for merchants to ENROLL and offer this innovative program to its consumers in support of what is most important to them – their cause. Once a merchant enrolls, the merchant now becomes a participating merchant.

The app contains a LOGIN button that allows participating merchants access to a personalized dashboard showing transaction details, charitable contributions, and the ability to export data that can be used to remarket to their consumers.
Flex (2nd Generation), Station Pro, Station (2018), Flex, Mini, Mobile, Station, and Web
Pricing & Subscription Information
Support & Additional Information
Ready to build your new clover system?
Call (877) 579 1113 or Email us at info@iMerchantech.com